What is
GST Suvidha Kendra?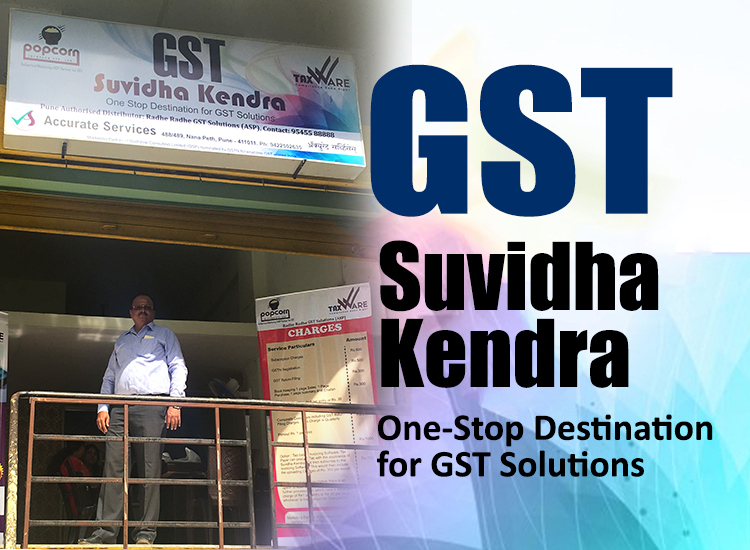 Back in 2009, Government of India formed Common Service Centers (CSCs) to deliver essential public utility services and government welfare schemes. Prior to this, eMitras in Rajasthan and MPOnline in Madhya Pradesh were started for similar objectives. Thus, over the years various service centers have flourished under central and state governments. Many private players entered the domain, such as Vayamtech under the name of Jan Seva Kendras in Uttar Pradesh and many more. Most of these centers have focused on providing various Government services and schemes.
Over the years Government has focused on financial inclusion, and banks were allowed to appoint Business Correspondents to offer various banking services in smaller villages where actual bank's branch would not be viable. So, many banks have extended their efforts in this with banks such as State Bank of India and Fino Payments Bank having multiple such centers across the country.
Another segment of businesses focused on recharges, bill payments, money transfers, AEPS, and added many small kirana stores and shop owners in the gambit of providing services through retail outlets across India.
The term GST Suvidha Kendras came in limelight with the advent of GST in 2017, where Government focused on setting up GST Suvidha Kendras across India to help people in GST compliances. It was at the time when Popcorn Infotech saw an opportunity to help smaller people. India's tax base was growing rapidly with Government's focus on cleaner economy and compliances, and we started setting up Suvidha Centers across India, called GST Suvidha Kendras. And that was just the start.
In 3 years, our GST Suvidha Kendras have grown to over 4,500 across India, and are providing over 200 services through our outlets. We have combined the services offered by various different kinds of CSCs, so as to ensure any center has a bouquet of services to survive and make money. What makes us outperform the competition is:
1. Strong focus on services. No one has been able to enter the compliance business and provide timely services like us. Many competitors have been able to focus only on retail services, or if they have tried compliance, they were unable to deliver the results.
2. Competitors have focused on quick money and not service delivery. Popcorn Infotech doesn't take any franchise fees, but only asks for business commitment from its GST Suvidha Kendras.
3. Continuous innovation, new products and understanding of the markets. We continue to make new collaborations and add new services till date. Competitors are using unhealthy tactics of sabotaging the company's image or using our brand name in their marketing efforts.
It is for this reason that Popcorn Infotech is the oldest surviving company in this domain of GST Suvidha Kendra Franchisee, and is growing at the fastest rate. We stand committed to our ethics and will provide the highest service standards at affordable rates for our franchisees to grow.
How to take Popcorn GST Suvidha Kendra?
Taking Popcorn's franchise is very easy, all we ask for:
1. ZERO FRANCHISE FEE. We need business commitment in terms of wallet balance that you can use against most of our services. If you are not confident of generating business, please do not join us.
2. PAN, Aadhar, Bank details, as part of basic KYC.
3. Access to computer and internet and a place from where you can service our customers. Please do not invest in new infrastructure until you are able to generate revenues.
4. Commitment, time and effort. If you can get only 50 customers then there is no limit to your success.
With this you will get:
1. Access to our customized portal with over 200 services in one place
2. Free franchise of UTI for PAN
3. Free access to portal of 15 insurance companies
4. Free Delhivery Courier Agency
5. Free access to customized Recharges and Bill Payment Portal with over 350 Billers
6. Free relationship manager and 24x7 helpline support
7. Free Marketing Material Softcopy / Templates for Shop Board, Visiting Cards, Standees, Pamphlets and Whatsapp advertisements.
8. Free Google and Social Media Listing
Moreover, a commitment for lifetime of business as long as you continue to work with us. If you wish to associate with us, please contact us on our helpline number 8767003366 or email on support@popcorninfotech.com or share your details on our website, and we will contact you shortly.