Popcorn Infotech Partners with
NSDL Payments Bank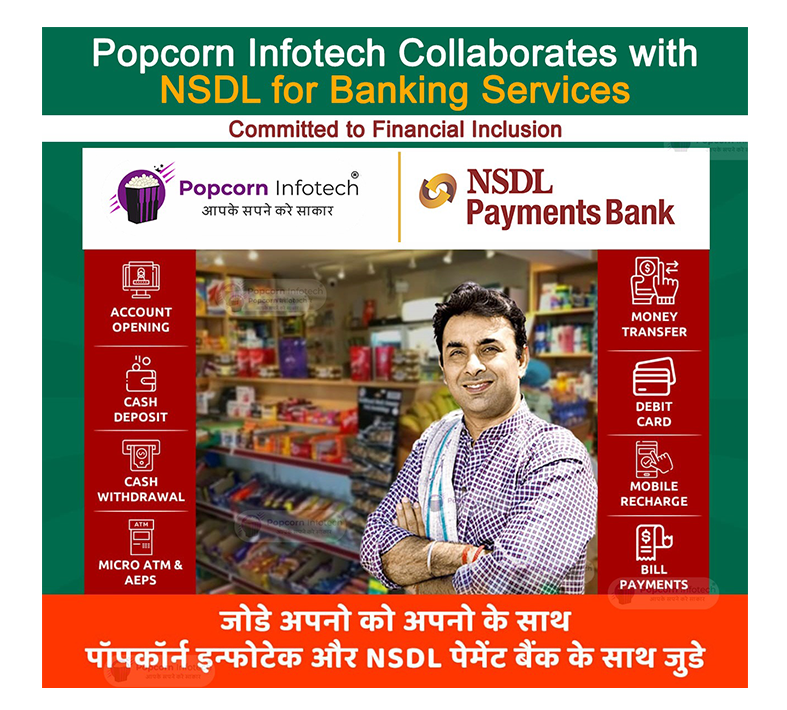 Popcorn Infotech Partners with NSDL Payments Bank to provide digital banking services at its network of over 5500 Popcorn GST Suvidha Kendra across India. Popcorn Infotech entered into partnership with NSDL Payments Bank to provide Banking Business Correspondent (BC) services on a Pan India basis through its network of Popcorn Suvidha Kendra's. Through digital banking the physical barrier of a Bank Branch has been removed which makes this model highly scalable. The existing platform through which Popcorn Infotech is providing other taxation and retail services services at its Popcorn Suvidha Kendra will be utilized for providing Banking services as well.
Popcorn Infotech is associated with some of the top organizations of India namely — Tata Communications, IDFC First Bank, ICICI Bank, IRCTC, UTI (Pan card), UTI (Ayushman Bharat card), E-Mudhra, Mahindra Finance, Delhivery courier and many more. After all these successful collaborations, Popcorn Infotech is now collaborating with NSDL Payments Bank. NSDL Payments Bank is the first and largest depository in India, that has been simplifying financial and investment journeys for more than 2 decades by utilizing the advantages of NEO banking. NSDL has been able to win the trust of millions of investors and other intermediaries through its wide range of businesses, thus standing true to its tagline- TECHNOLOGY, TRUST, AND REACH.
Popcorn Infotech with use its 6,000+ agent network across India to tie-up with NSDL Payments Bank for Roll out on Banking Business Correspondent.